Removing barriers to continue traditions with AgrAbility program
Nebraska AgrAbility, a program through Easterseals Nebraska, provides agriculture rehabilitation services to Nebraska farmers and ranchers. This is Todd's story.
Receiving a diagnosis
In 1993, Todd was attending the University of Nebraska–Lincoln and coming home any time he could to help his Grandpa Leyon revive the family farm near Fairfield, Nebraska. At that time, he didn't know a single day in his future would change his life forever. 
"One day in 2004, I developed tunnel vision and had a hard time seeing," said Todd. "I was like, 'What the heck is going on?' My eye doctor recommended a specialist, then the retinal specialist said I needed a neurologist, who said I needed a spinal tap. After that, they told me I had Multiple Sclerosis (MS)."
Overnight, Todd's life had changed. Subsequently, he began treatment and received a shot three times a week with a strict medication regimen. Facing that he may someday be in a wheelchair was sobering for the full-time farmer. However, Todd has been managing his disease and has not lost his full mobility.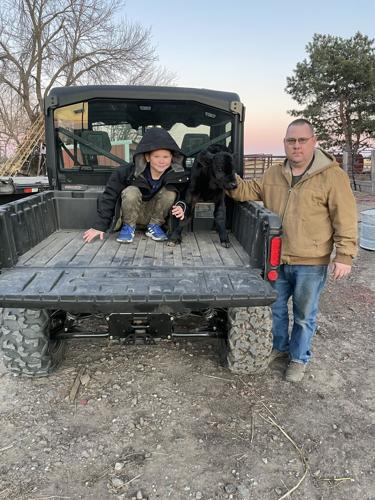 Establishing resources for success
Trying to farm while also learning to live with MS was a change for the entire family. Then, that's where the Nebraska AgrAbility program came in to help. Rod Peterson, a rural rehabilitation specialist for Nebraska AgrAbility, has assisted Todd in navigating the program's resources. 
"Before I was connected with AgrAbility, I had purchased a used bobcat that did not have air conditioning. One of the big things with MS is the heat. The first thing Rod helped me with was trading in the old skid steer for a new one with air conditioning. That was a huge help," Todd explained.  
After some time, Rod visited the farm again to check in and suggest more adaptive equipment options. Todd was appreciative of the continued support.
"I was struggling traversing rough pastures, so Rod recommended a side-by-side utility vehicle with a box on it that has helped tremendously. Grandpa and I had gotten quite a long way with the farming, but I don't know what I would have done without Nebraska AgrAbility's help."
Nebraska AgrAbility Grateful Farmer Initiative
Share this story: